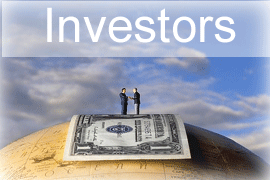 Give yourself the competitive advantage.
Get the jump on the newest clean technologies as they come off the drawing board. Quickly review the hottest start-ups. Through the unique video format, meet the players, see their products in action. Contact them directly to find out more. Whether you are a private investor or a flagship VC icon, feature your mission on our Investors Channel.
Take advantage of our FREE 60-DAY TRIAL AFFILIATE OFFER now to be featured on our Investors Channel. It's FREE. . . . Click here to learn more.