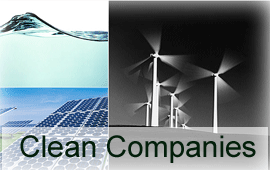 Promote your Clean Company to the global market.
This is a no-brainer. Promote your company and market your products to the world's most focused marketplace of cleantech consumers and stakeholders . . free. And as an added bonus . . maximize your company's potentials to form strategic partnerships. "Partnerships are more important than ever" was a key takeaway from the CleanTech Forum just held in San Francisco. (source: Greg Neichen: Keynote speaker). Convergence. From Competition to Cooperation.
Take advantage of our FREE 60-DAY TRIAL AFFILIATE OFFER now to be featured on our Clean Company Showcase Channel. It's FREE. . . . Click here to learn more.